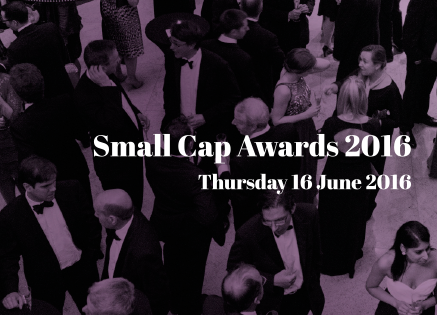 Small Cap Awards 2016
The fourth annual Small Cap Awards nominations sponsored by ICAP Securities & Derivatives Exchange (ISDX) are announced as follows:
IPO of the Year
Bilby ; Curtis Banks; Gear4music; Premier Technical Services Group; Stride Gaming
Company of the Year
Bioventix; Crawshaw; James Cropper; Trakm8
Impact Company of the Year
Ashley House; Capital for Colleagues; Good Energy Group; Menhaden Capital; V22
Executive Director of the Year
Nick Taylor – Waterman Group; John McArthur – Tracsis; David Cicurel – Judges Scientific; Stephen O'Hara – OptiBiotix Health
Transaction of the Year
1pm acquisition of Academy Leasing; AdEPT Telecom acquisition of Centrix; Scientific Digital Imaging acquisition of Sentek; Venn Life Sciences acquisition of Kinesis Pharma
Analyst of the Year
Mike Allen – Zeus Capital; Charles Hall – Peel Hunt; Matt Butlin – Allenby Capital; Eric Burns – WH Ireland
Journalist of the Year
Paul Scott – Stockopedia; Simon Thompson – Investors Chronicle; Smit Berry – The Small Company Sharewatch
Advisor of the Year
FinnCap; Hybridan; Peterhouse; Zeus Capital
Fund Manager of the Year
Conor McCarthy – MFM Techinvest Special Situations; Gervais Williams – Miton UK Smaller Companies; Ken Wotton – Wood Street Microcap Investment; Paul Spencer – Franklin UK Smaller Companies
Alternative Financing Deal of the Year
Funding Circle SM Income Fund – IPO; Seedrs for Chapel Down – Curious Brew; Capital For Colleagues – institutional and crowd placing; TRC Contracts by ArchOver – record working capital loan
Lifetime Achievement Award
To be announced on the evening

Keynote speaker
Lord Young of Graffham
The Awards ceremony shines a light on the best companies and participants in the small and micro-cap community (sub £150m market capitalisation) across eleven categories.
This year the Small Cap Awards are sponsored by ICAP Securities & Derivatives Exchange (ISDX) and supported by the London Stock Exchange. They are a once-a-year opportunity to recognise outstanding achievement focused on smaller quoted companies.
The winners in each category will be announced on Thursday 16th June at a black tie event held at The Montcalm Hotel, Marble Arch, 2, Wallenberg Place, Marylebone, London, W1H 7TN and will celebrate success for smaller quoted companies on ISDX and AIM.
The keynote speaker is Lord Young of Graffham. One of the UK's best known politicians, Lord Young is a former Secretary of State for Trade and Industry. Until recently he was Enterprise Adviser to the Prime Minister with a brief to conduct a "brutal" review of the relationship of government to small firms. This resulted in a three-part review to the Prime Minister on enterprise and small business.
In May 2012, Lord Young delivered the first part of this review. Entitled Make Business Your Business, it was the first of its kind since the Bolton Report of 1971. Young's report highlighted the number of start-up businesses to indicate a growing culture of enterprise and entrepreneurship in the UK. The report introduced a new Government programme, Start Up Loans, providing loans and mentoring to get a business venture started. Start Up Loans have so far provided over £129 million of loans to 25,000 people.
In June 2013, Young delivered Growing Your Business, which looked at how new and developing small firms can grow and expand into new markets. Following this, the Government introduced reforms of public procurement with the aim of making it easier for small suppliers to win public sector contracts; a new Small Business Royal Charter, which aimed to extend the reach of university business schools into their local small business communities and a Growth Voucher programme to assist companies "find and pay for professional strategic advice".
In June 2014, Young reviewed the relevance of enterprise in education in Enterprise for All. In December 2014 the Government accepted Young's recommendations in this report. These include the introduction of Enterprise Advisers, intended as a dedicated resource available to Head Teachers to support them in developing an appropriate careers and enterprise offer for their students and an 'Enterprise Passport' through which young people will record their enterprise and extracurricular activities alongside their academic qualifications to future employers.
We are especially delighted to welcome Lord Young at this time when the future of the Alternative Investment Market must be considered to be under long term threat.
Lord Young commented: "Healthy, well administered small company markets that are not suffocated by regulation are an essential feature of an economy within which SMEs can reach their full potential and provide the growth the nation needs."
The event will be attended by institutions, fund managers, brokers, company directors, entrepreneurs and advisors, creating a chance for all attendees to network with those who have shown exceptional growth and performance in the small cap environment over the last year.
This year the Small Cap Awards is delighted to have secured headline sponsorship for a second year from ISDX, a London based stock exchange providing UK and international companies with access to European capital through a range of fully listed and growth markets.
In addition, the event is co-sponsored by the highly respected commercial law firm Hamlins LLP; the accountancy and business advisory firm UHY Hacker Young, and the Social Stock Exchange. The Small Cap Awards is also supported by the London Stock Exchange, the Quoted Companies Alliance and the specialist small cap equity research house, Equity Development.
The Small Cap Awards again include one for Alternative Financing Deal of the Year. Alternative forms of financing outside traditional equity fundraising are becoming increasingly important to the quoted SME community and the Small Cap Awards are very pleased to help raise the profile of this fast growing category.
The nominations have been selected by a judging panel comprised of leaders in the Small Cap sector and is Chaired by Brian Basham, Chairman of Equity Development.
The nominations have primarily been chosen from the calendar year 2015. The judging panel consists of:
(Chair) Brian Basham – Chairman of Equity Development
David Coffman – Head of Corporate Finance, Daniel Stewart
Andy Edmond – CEO at Equity Development
James Faulkner – Editorial Director, Burnbrae Media
Richard Gill – Director at Align Research
Andrew Hore – HubInvest and Editor of AIM Journal
Judith McKenzie – Head of Downing UK Micro-Cap Growth fund
Miles Nolan – Research Editor at WH Ireland
Claire Noyce – Managing Partner at Hybridan LLP
Gervais Williams – Managing Director of Miton Group plc
The fourth annual event follows the success of the Small Cap UK network (http://www.smallcapuk.com) founded by Lily & Piper, a specialist integrated Events Company talented in building niche networks. SmallCap UK is supported by Hamlins LLP, the leading central London commercial law firm.
Since it started in mid-2012, the Small Cap Club has successfully enabled leaders and participants in the micro-cap sector to regularly meet together, based on the premise that meeting people builds trust and creates new areas of thinking and opportunity and the regular networking events have gone from strength to strength.
-Ends-
For further details on the Awards, including judging, categories, sponsor, and partnership opportunities, please contact: Melissa Gilmour at Lily & Piper
About ICAP Securities & Derivatives Exchange (ISDX)
ICAP Securities & Derivatives Exchange (ISDX) is a London based stock exchange providing UK and international companies with access to European capital through a range of fully listed and growth markets. ISDX recently announced a revised version of the ISDX Growth Market Rules for Issuers, which came into effect on 23rd March 2015. The new Rules include simplified eligibility criteria for companies wishing to join the Growth Market. Revisions to the ISDX Corporate Adviser Handbook are also effective from 23rd March. We would like to thank all those who responded to the consultation for their helpful and constructive feedback. Please contact us if you have any queries.
About Hamlins LLP
Hamlins is a commercial law firm focusing on media and entertainment, travel and leisure, retail and fashion, natural resources, real estate and finance. The firm is renowned for its specialist niches, substantial client base and quality lawyers who are recognised leaders in their fields. It has built an enviable reputation with a quality of service rivalling much larger firms.
About UHY Hacker Young
The UHY Hacker Young Group is one of the UK's Top 15 accountancy networks with more than 100 partners and 520 professional staff working from 27 locations around the country. The offices within the Group provide a wide range of accounting, tax and business advisory services, with a reputation for integrity and reliability within the financial community, and particularly with London's Stock Markets. UHY Hacker Young are ranked 10th in the ARL Corporate Advisers Rankings Guide amongst other UK audit firms for advising London Stock Exchange listed companies.
UHY Hacker Young is a founder member of the UHY International network with 320 offices across 92, with representation in all major financial centres. Further information can be found at www.uhy-uk.com.
About the Social Stock Exchange
The Social Stock Exchange provides access to the world's first regulated exchange dedicated to businesses and investors seeking to achieve a positive social and environmental impact through their activities. All member companies must meet a rigorous set of criteria before joining, including the publication of an independently verified Impact Report.
http://socialstockexchange.com/
About Lily & Piper
Lily & Piper is an integrated events and branding agency, which specialises in in placing brands in selected events around the UK, building campaigns and creating and developing niche networks.
Recent networks founded by the company include the High Value Immigration Awards, Fast Growth Entrepreneurs, Impact Investor Club and the Self Directed Investor Club.
Notes to Editors
The fourth annual Small Cap Awards will take place from 18.30 on Thursday 16 June 2016 at The Montcalm Hotel in Marble Arch, London
A standard table for 10 is priced at £1600+VAT to include a champagne reception, three course dinner and wine
Individual tickets are available for £200 +VAT
smallcapuk.com
Twitter @smallcapuk #smallcapawards