general, News
Small Cap Awards 2019 – Nominations Press Release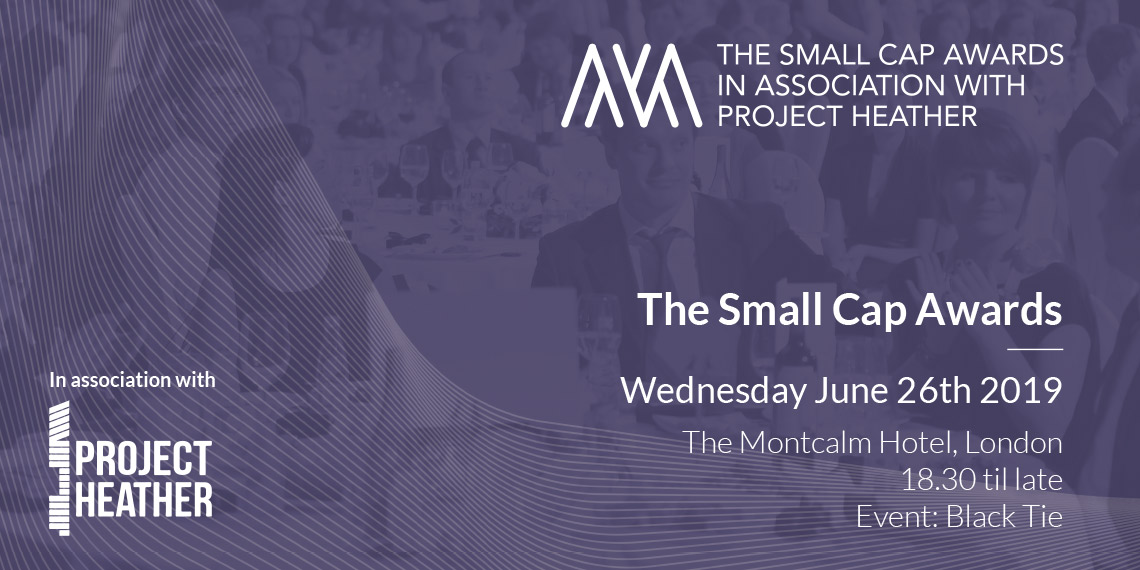 Press Release: London, UK
April 2019
Small Cap Awards
Small Cap Awards 2019 NOMINATIONS ANNOUNCEMENT
British household name and well-known businessman Nick Leeson is this year's keynote speaker at awards ceremony

The Small Cap Awards is an annual opportunity to recognise outstanding achievement focused on smaller quoted companies.
The Awards ceremony, which this year will take place on 26 June at the Montcalm Hotel in Central London, shines a light on the best companies and participants in the small and micro-cap community (sub £100m market capitalisation) across nine categories. The keynote speech at the ceremony will be given by Nick Leeson, whose rogue trading caused the collapse of Barings Bank.
Since it started in mid-2012, the Small Cap Club has successfully enabled leaders and participants in the micro-cap sector to meet regularly, based on the premise that meeting people builds trust and creates new areas of thinking and opportunity, and the regular networking events have gone from strength to strength.
This year the Small Cap Awards is delighted to announce headline partnership with Project Heather.
Tomás Carruthers, Founder and CEO of Project Heather, said:
"We are delighted to be supporting this event as we work towards launching our own stock exchange built on impact principles. The small cap universe is incredibly important to the economy and we hope the launch of a new exchange will encourage more businesses to join it and realise their plans and ambitions through a listing."
In addition, the event is co-sponsored by the highly respected commercial law firm Hamlins LLP and the Top 20 national audit and accountancy firm UHY Hacker Young. This year the NEX Exchange Company of the Year award is sponsored by NEX Exchange. The awards are organised by London event and network agency Lily & Piper.
The nominations have been selected by a judging panel comprised of leaders in the Small Cap sector and is Chaired by Claire Noyce, Managing Partner at Hybridan LLP.
IPO of the Year
Aquis Exchange Plc
Cake Box Holdings Plc
Litigation Capital Management Limited
The Panoply Holdings Plc
Manolete Partners Plc
Crossword Cybersecurity Plc
Company of the Year
I3 Energy Plc
Beeks Financial Cloud Group Plc
CREO Medical Group Plc
Scientific Digital Imaging Plc
Water Intelligence Plc
Frontier IP Group Plc
Executive Director of the Year
Amanda Mesler, CEO – Earthport Plc
Gordon McArthur, CEO – Beeks Financial Cloud Group Plc
Ian Fishwick, Chairman – AdEPT Technology Group Plc
Mike Creedon, CEO – Scientific Digital Imaging Plc
Steve McQuillan, CEO Avingtrans Plc
Simon Stilwell, CEO – Bonhill Group Plc
Impact Company of the Year
Kromek Group Plc
Yourgene Health Plc
Inspiration Healthcare Group Plc
Walls and Futures REIT Plc
Nanoco Group Plc
MYCELX Technologies Corporation
Analyst of the Year
Peter McNally, Technology, Panmure Gordon & Co
Kartik Swaminathan, Arden Partners Plc
Nick Spoliar, Support Services, WH Ireland Limited
Jonathan Barrett, Media, N+1 Singer
George O'Connor, Technology, Stifel Nicolaus Europe Limited
Jeremy Grime, Financials, Charlton Illingworth
Journalist of the Year
Paul Scott – Stockopedia
Emily Nicolle – City AM
Simon Thompson – Investors Chronicle
Jamie Nimmo – Mail on Sunday
Joanne Hart – Mail on Sunday
Mark Shapland – Evening Standard Small Cap Spotlight
Fund Manager of the Year
Seneca Growth Capital VCT PLC
Liontrust UK Micro Cap
Gresham House UK Micro Cap
Octopus UK Micro Cap Growth
Amati UK Smaller Companies
Marlborough Nano Cap Growth
NEX Exchange Company of the Year
National Milk Records Plc
Sativa Investments Plc
NQ Minerals Plc
Walls and Futures REIT Plc
Chapel Down Group Plc
DXS International Plc
Lifetime Achievement Award
To be announced on the evening.
The winners in each category will be announced on Wednesday 26th June at a black tie event held at The Montcalm Hotel, Marble Arch, 2, Wallenberg Place, Marylebone, London, W1H 7TN and will celebrate success for UK listed Small Caps.
Peter Dickson, a British voice-over artist best known as the voice of E4, and the brand voice of The X Factor, Britain's Got Talent, will return for the seventh year to host the event.
This year's Keynote Speaker will be Nick Leeson, a British household name and a well-known businessman. He is also a name associated with arguably the biggest financial scandal of the 20th century. The original Rogue Trader whose unchecked risk-taking and drive for success caused the collapse of Barings Bank which in turn put Nick in a Singapore Jail for 4 years.
The event will be attended by institutions, fund managers, brokers, company directors, entrepreneurs and advisors, creating a chance for all attendees to network with those who have shown exceptional growth and performance in the small cap environment over the last year.
The nominations have been selected by a judging panel comprised of leaders in the Small Cap sector and is Chaired by Claire Noyce, Managing Partner at Hybridan LLP.
The judging panel consists of:
(Chair) Claire Noyce
(Managing Partner and Chief Executive at Hybridan
Judith Mackenzie
Partner & Head of Public Equity at Downing
Dale Bellis
Investment Director (AIM) at Maven Capital Partners UK LLP
David Coffman
Corporate Finance Director at Cairn Financial Advisers
Gervais Williams
Managing Director at Miton Group plc
Miles Nolan
Associate Director at IFC Advisory
Richard Gill
Head of Research at Align Research
Connor Grimes, CFA
Investment Manager at Seneca Growth Capital VCT
Dominic Weller
Fund Manager at Octopus Investments
Guy Feld
Fund Manager at Canaccord Genuity
-ends-
Notes to Editors
The seventh annual Small Cap Awards will take place from 18.30 on Wednesday 26 June 2019 at The Montcalm Hotel in Marble Arch, London. A standard table for 10 is priced at £1500+VAT to include a champagne reception, three course dinner and wine.
Individual tickets are available for £200 +VAT
www.smallcapawards.com www.smallcapnetwork.co.uk lilyandpiper.com
Twitter @sce_club #smallcap2019
For more information contact:
Sponsorship and tables: [email protected]
Other queries: [email protected]
About the Sponsors:
About Project Heather
Project Heather is building a Scottish Stock Exchange for the 21st century – for those who believe in purpose as well as profit. It will be the first regulated investment exchange to be focused on businesses that are making measurable positive social and environmental impact.
For more information, go to
---
About Hamlins LLP
Hamlins LLP is a commercial law firm renowned for its industry expertise, entrepreneurial approach, and quality lawyers who are recognised leaders in their fields. We have deep market knowledge of the media, digital, real estate, sport, retail and leisure industries.
For more information, go to
---
About UHY Hacker Young
The UHY Hacker Young Group is one of the UK's Top 20 accountancy networks with more than 100 partners and 540 professional staff working from 23 locations around the country. The offices within the Group provide a wide range of audit, accounting and tax services, with a reputation for integrity and reliability within the financial community, and particularly with London's Stock Markets. UHY Hacker Young are ranked 13th in the ARL Corporate Advisers Rankings Guide amongst other UK audit firms for advising London Stock Exchange listed companies.
UHY Hacker Young is a founder member of the UHY International network with more than 300 offices across 100 countries, with representation in all major financial centres.
For more information, go to
---
About Lily & Piper
Lily & Piper is an integrated event and branding agency, which specialises in placing brands in selected events around the UK, building campaigns and creating and developing niche networks.
Recent networks founded by the company include the Foreign Direct Investment Awards, Small Cap Network, Fast Growth Entrepreneurs and Impact Investor Club.
For more information, go to