general, News
Small Cap Profile: Claire Noyce, CEO, Hybridan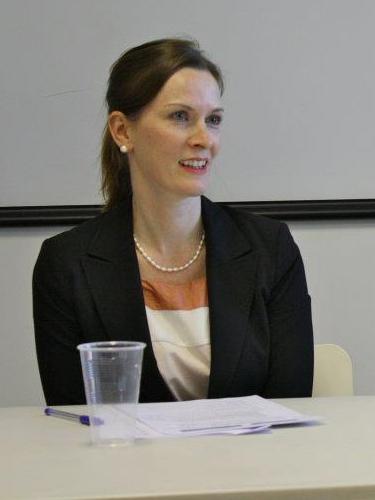 Claire Noyce is one of only two women to run a stockbroking firm in London. We wanted to pick her brains to answer some questions on small caps, crowdfunding and being a woman in stockbroking.
By way of background, prior to becoming Hybridan's founding partner and CEO, Claire was previously at Nomura in the UK Small Cap Life Sciences and Technology Sales and Trading team, where she sold equities to UK and Continental European investors. Prior to joining Nomura, Claire was an equity analyst at Lazard, with a significant involvement in IPOs and capital market transactions. She is on the Board of the Quoted Companies Alliance as a non executive Director, is a mentor at Manchester University and actively involved in a number of groups and government initiatives to empower women in the workforce and on Boards.
1. What is your prediction for the next ten years in Small Caps?
With the economic recovery only spluttering into action, innovative small and mid-caps are the only real option to find genuine growth and we would expect an increase in capital flows in this direction. However given the risks involved, careful stock picking and knowing one's market is more important than ever.
That being said money is not flooding into small caps right now. Small caps can be isolated from the wider macro themes, most notably seen recently with FTSE reaching all-time highs yet sentiment on AIM remaining pretty muted. Sentiment towards small caps is largely driven by liquidity and the usual providers of that liquidity (such as private client brokers and wealth managers) have been squeezed from a regulatory standpoint around suitability issues for their underlying clients.
It is regrettable that the low interest rate environment has not been matched by a proportionate increase in funding for entrepreneurial businesses. Schemes like EIS offer great benefits for investors and small companies alike and it is crucial that the next Government continues to support smaller business.
We need to remind ourselves that AIM is the best growth market in the world for companies and we need to foster an environment where investing in smaller companies is more easily accessible. I do think though that money will trickle down once more into smaller companies; them being the only environment where you can get alpha.
2. How do you feel about the new crowdfunding model for fundraising? Where will this leave advisors?
There may be some disappointments and eventually the regulators will catch up with it and we will see a reduction in its popularity in my opinion. I do not believe it will become a serious competitor to traditional capital raising. At first glance, Crowdfunding looks attractive and works well for "retail investor friendly" brands that everyone knows and loves such as Chapel Down Winery.
Crowdfunding will probably be useful to these profile led companies or companies that maybe have a certain attraction to a niche audience; for example crowdfunder.co.uk and its recent proposed inland surfing lake, 'the Wave' in Bristol, but the majority of companies tend not to have that profile or niche audience and need advice still.
Most companies will need professional help with their pitch and presentation and advice on what the market wants and will bear. They will have to pay for that service, and provision of research, one way or another.
3. If you could change one thing in Government policy to help companies and businesses what would it be?
The key area of focus should be making funding accessible to grass roots SMEs. This is the one thing I want to see change on. These are the guys in the funding black hole where mainstream equity and debt investors will not touch. Startup Loan funds/British Business Bank has gone some way in filling this void but more needs to be done and with the rise of challenger banks they could help differentiate themselves from other mainstream providers of finance by being a major supporter to UK SMEs. We also need to ensure that management of public companies are held properly accountable for their actions whilst keeping red tape to a minimum. Another bugbear of mine is that large companies cannot abuse smaller ones over payment terms.
With my Quoted Companies Alliance (QCA) hat on, I would say that we are working hard on a number of areas. Namely we are proposing reforms to Entrepreneurs Relief so that capital gains tax is available to all who contribute to the long term success and growth of a business, we have a campaign running to allow the costs of raising equity to be tax deductible and we are working on a campaign to raise the percentage that small and mid-size companies can increase their share capital without having to issue a prospectus.
4. Why do you think there are so few (we know of only one other) women running and owning brokerage firms in the UK?
It starts at the other end of the hierarchy. There are still not enough women entering the industry at grass roots level. The mainstream media's current reporting of the city as a male dominated institution does not set itself up to be an inviting career choice for younger women when making that decision. More should be done in tandem with career advice providers at schools/universities where the actual facts are presented to female students who are considering a role within the City. Women run all sorts of businesses and presumably (like men) they run businesses that interest them and they believe they can make work.
Not everyone who works in a brokerage firm wants to set up and run one, in fact most don't. Given there are significantly less women than men at all levels of brokerage firms, numerically this will follow through into less women owning and running firms.
If you want more female owner managers you are going to need to attract a lot more female juniors. It is a suggested fact that is often quoted on this subject that women apply for jobs they are already 100% qualified for, whereas men apply if the reckon they can figure it out on the job. Could it be that as there are no 'broking schools' or 'broking degrees' and broking is not a 'profession', that maybe this is part of the problem in attracting women?
I could talk for a long time about this subject and it isn't about statistics or quotas, it is about sharing real experiences to bring change. The issue is the percentage of women in senior management globally. At some recent statistics I looked at; some circa 20%, of CEOs globally are female, a lot less women than this circa 20% are involved as management of listed companies. Is the way forward a 30%er club or quotas. I believe not. For me, 30% of the senior workforce isn't women, so how can we have 30% of Boards being female. It is always about the best person for the job. The question should be why is there a lack of pool of females to choose from for Board representation?
First, I think it starts early. I sometimes have an intern programme running and I asked one the other day why I am inundated by male CV's, but maybe 1 in 100 CVs are from women. The female intern I asked about it (she is ex City of London for Girls, ex Cambridge University) said that boys on her course bullied her and the other female high fliers into not applying for investment banking roles at the top investment banks as their lives would be unbearable there.
Second, you reach the top, and then need to stay there and keep climbing post children. Caveat: some women dont want to and that is fine, and those that do largely do.
We must be interested in the third group, those who would like to but cannot because of childcare issues. We need to see more flexibility in the workplace, particularly the larger employers, being creative with schemes to help working mothers, or perhaps make it a more shared role between both sexes; encouraging more men to work part-time to look after children as opposed to just women.
As more and more men work part-time, women will not be discriminated against for taking breaks or working part-time. I believe that this is commonplace in Scandinavia for example. The "Boys Club" culture does exist and needs to continue to be broken down. Boards bring in their friends to back each other, so non-consensual people need not apply. By definition, most female senior employees have broken through any perceived ceiling and are non-consensual, outspoken and will not turn a blind eye to what needs addressing. We aren't very good at ignoring elephants in rooms. I am sure though there are men out there with good skills also being overlooked who also dont tow the line but who speak out for what is right. Maybe we should make NED roles more regulated to break through the Boys' Club.
We need to improve regulation as it is, much needed, ref Lehman's Bros, Soc Gen and UBS traders, HSBC and its Mexican money, Madoff….all perfect examples of female failure!! Maybe we should perhaps think about making it legal to have NED's who are completely unknown to the Execs of a Board.
I think sometimes women go about it the wrong way: women networking together as opposed to just networking. Women often don't appear very good at networking, at City Lunches, I often see women hiding in the room where the formal presentation is due to start instead of networking….why? Women can lack self-confidence: it is important to start mentoring others. I think encouraging women out of their comfort zones is crucial; you see women going for jobs only when they 100% fit the bill.
Anyway as I mentioned I could talk for a long time on this subject so will close with the words 'enough stereotyping.' We have to get out there, network and be specific about what we can do and help those that need our help of both genders actually without looking for the glory of being elite within the female networking society.
Let's not create a "Girls Club" mentality, rather work on breaking down the "Boys Club". I don't like to see people labelling themselves as the only this and that based on their gender.