News
2020 Winners Luncheon Report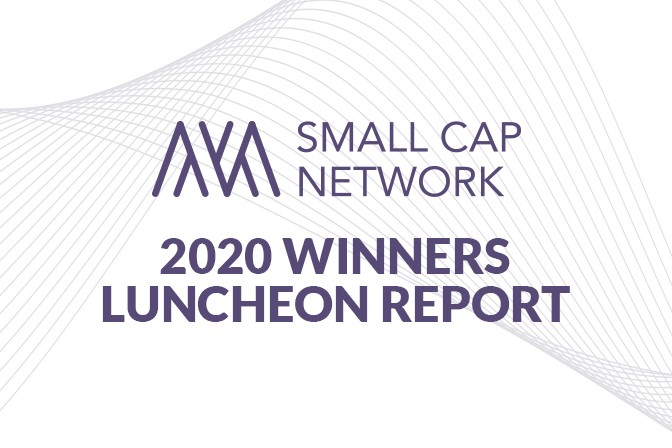 Following the pandemic, forcing the cancellation of last year's event, the Winners and Judges of the 2020 Small Cap Awards (for 2019 Winners) were finally able to meet in person last week at an informal and lively luncheon held in Central London. As well as celebrating their successes over a glass of wine or three, chatter around the table turned to the post-pandemic business challenges (and opportunities) faced by all.
Always the first award given out is the prestigious IPO of the Year.  2019's winner was diagnostic commercialisation company Diaceutics.  In what was a quiet year for IPOs in 2019, the awards judges praised the firm's £17 million fundraise and focussed growth strategy.  About raising money, independent power supplier Yü Group, grabbed the Innovative Financing award for its unique £13 million energy hedging facility.  This turned out to be a shrewd move, with the deal helping to mitigate the impact of this year's record high global commodity prices.
Two winning companies with acquisitions on their minds are power products supplier Volex (Company of the Year) and scientific instruments firm Judges Scientific (David Cicurel – Director of the Year). At the lunch directors of both firms flagged a significant amount of deal making opportunities in the post-pandemic world. As ever, they are keeping a close eye out for quality businesses at the right price. Boaden, CFO of Volex, commented "There are some really interesting businesses in our acquisition pipeline at the moment, however, assessing valuations can be challenging when results have been impacted by unusual circumstances we have seen in the last year."
Turning to changes in business practices, some attendees were more in favour of the current switch to working at home than others. Certain winners are in favour of the model of working, which we won't repeat since it spells a rude word (!), an acronym for people who only come into the office on Tuesday, Wednesday and Thursday. While a few of the business bosses thought that this can cut costs and improve efficiency, others were keener to maintain a permanent face-to-face presence with their colleagues and employees.
Meanwhile, Georgina Brittain and Katen Patel of the JPM UK Smaller Companies fund were toasting their award as Small Cap Fund Managers of the Year.  Holdings including Games Workshop, Dunelm and Future plc which helped them to deliver a 40% annual gain.  The managers are pleased with their performance this year too, having seen a 22% gain in the year-to-date 2021 and outperforming their benchmark once again.
The Small Cap Awards is back in person this year, with the event due to be held on Thursday 11th November at London's Montcalm Hotel. For more details on 2021's black-tie dinner, including the shortlist of nominees for 2020, visit the Small Cap Network website HERE
---