general, News
Small Cap Awards 2020 – Judging Panel Announcement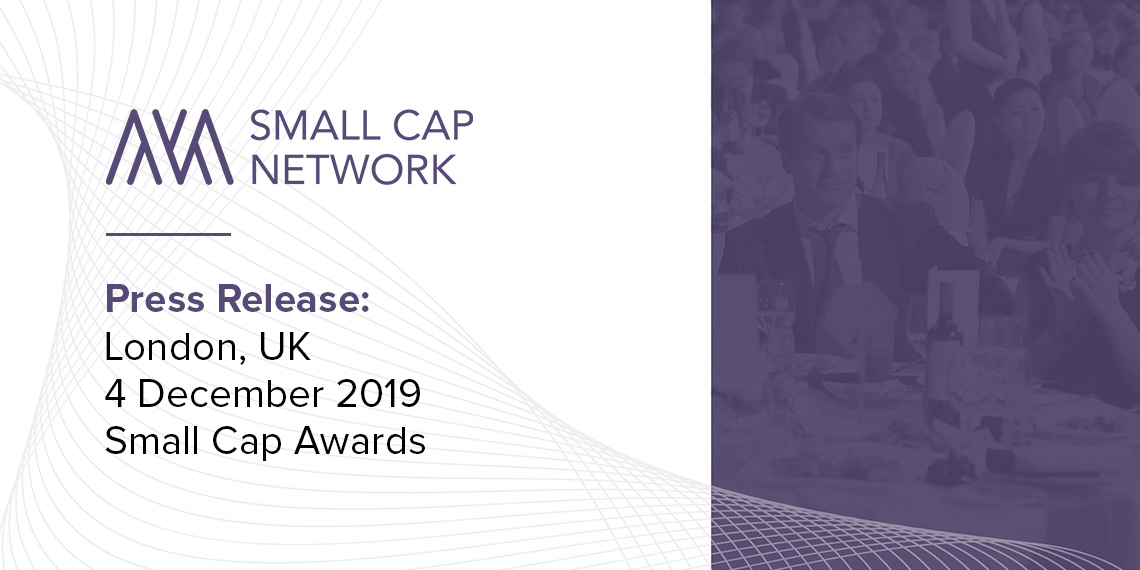 Press Release: London, UK
4 December 2019
Small Cap Awards
Small Cap Awards 2020 Judging Panel Announcement
Awards Chair, Claire Noyce, Managing Partner at Hybridan announces judging panel for the 2020 Small Cap Awards

The Small Cap Awards is an annual opportunity to recognise outstanding achievement focused on smaller quoted companies.

The Awards ceremony, which this year will take place on 25 June at The Montcalm Hotel in Central London, celebrates companies and participants in the small and micro-cap community (sub £200m market capitalisation) across various categories.

Since it started in mid-2012, the Small Cap Club has successfully enabled leaders and participants in the small-cap sector to meet regularly, based on the premise that meeting people builds trust and creates new areas of thinking and opportunity, and the regular networking events have gone from strength to strength.

This year the Small Cap Awards is delighted to announce co-sponsorship with the highly respected commercial law firm Hamlins LLP and the Top 20 national audit and accountancy firm UHY Hacker Young. The awards are this year for the first time organised by Master Investor, which specialises in connecting companies and private investors

The nominations will be selected by a judging panel comprised of leaders in the Small Cap sector and is Chaired by Claire Noyce, Managing Partner at Hybridan LLP.

The Judging Panel Consists of:

(Chair) Claire Noyce
Managing Partner and Chief Executive at Hybridan and Deputy Chair of the Quoted Companies Alliance, and with her (in alphabetical order):

Dale Bellis
Director of the AiM Investment Team at Maven Capital Partners UK LLP
James Faulkner
Editor-in-Chief at Master Investor
Guy Feld
Fund Manager at Canaccord Genuity Fund Management
Richard Gill
Head of Research at Align Research
Connor Grimes
Investment Manager at Seneca Partners
Helen James
Partner, HW Fisher
Judith Mackenzie
Partner & Head of Public Equity at Downing LLP
Anand Sambasivan
Co-founder & CEO of PrimaryBid Limited
Dominic Weller
Fund Manager at Octopus Investments
Simone Westerhuis
Managing Director, LGB Investments
Gervais Williams
Head of Equities at Premier Miton Group plc.
The winners in each category will be announced on Thursday 25th June at a black-tie event held at The Montcalm Hotel, Marble Arch, 2, Wallenberg Place, Marylebone, London, W1H 7TN and will celebrate success for UK listed Small Caps.

Peter Dickson, the UK's most prolific voiceover artist best known as the voice of E4, and the brand voice of The X Factor and Britain's Got Talent, will return for the eighth year to host the event.

The event will be attended by institutions, fund managers, brokers, company directors, entrepreneurs and advisors, creating a chance for all attendees to network with those who have shown exceptional growth and performance in the small cap environment over the last year.
Notes to Editors
www.smallcapawards.com www.smallcapnetwork.co.uk
Twitter @sce_club #smallcap2020
For more information contact:
Sponsorship and tables: [email protected]
Other queries: [email protected]
Master Investor: www.masterinvestor.co.uk
About the Sponsors:
About Hamlins LLP
Hamlins LLP is a commercial law firm renowned for its industry expertise, entrepreneurial approach, and quality lawyers who are recognised leaders in their fields. We have deep market knowledge of the media, digital, real estate, sport, retail and leisure industries.

For more information, go to
---
About UHY Hacker Young
The UHY Hacker Young Group is one of the UK's Top 20 accountancy networks with more than 100 partners and 540 professional staff working from 23 locations around the country. The offices within the Group provide a wide range of audit, accounting and tax services, with a reputation for integrity and reliability within the financial community, and particularly with London's Stock Markets. UHY Hacker Young are ranked 13th in the ARL Corporate Advisers Rankings Guide amongst other UK audit firms for advising London Stock Exchange listed companies.

UHY Hacker Young is a founder member of the UHY International network with more than 300 offices across 100 countries, with representation in all major financial centres.

For more information, go to
---
About Master Investor
Master Investor is a media and events company which specialises in connecting companies to investors. With an audience of over 10,000 active investors Master Investor provides a range of channels for companies to inform and engage with the private investor community in print, online and in person.

For more information, go to